Welcome

Trade School Might Be Right for You
Have you considered what a trade school has to offer you after high school?
What trade schools have to offer
If you don't already know, a trade school—also called a vocational school, technical school, or vocational college—is a post-secondary school that trains students in skills to prepare them for specific careers. Program lengths vary but usually run from eight months to two years, much shorter than a traditional bachelor's degree program!
Careers you can study at a trade school include: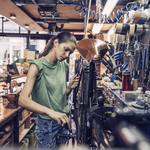 Electrician
Dental hygienist
Plumber
Paralegal
Nurse
Graphic designer
Welder
Computer technician
Aircraft mechanic
Carpenter
Cosmetologist
Chef
Marine mechanic
Construction manager
Massage therapist
Pharmacy technician
Most schools have advisory committees or career placement offices that help students choose programs that have the most employment opportunities. After completing a trade program, students receive a diploma or trade certificate and are either ready to join the workforce for the job they trained for, take a necessary licensing exam, or become an apprentice or journeyman in a skilled trade. Trade schools have a high job placement rate for their graduates.
One of the advantages of attending a trade school is that, because their programs are two years or shorter in length, students spend less time in school and start their careers sooner. This means they pay less for their education. Many trade school students are able to leave their program with little to no student debt.
What you can do now to prepare for trade school
The road from high school to a trade school may be different than the one to a traditional four-year college, but the principles are the same. Here's what you can do to explore the various skilled trade professions and best prepare yourself for acceptance into a program.
Keep your grades up, especially in classes that directly relate to the job you're interested in, like math, shop class, woodworking, or health sciences. The acceptance qualifications for competitive programs—like audio engineering or music production—can be demanding.
If you have the opportunity, choose relevant courses your senior year of school. Look at classes offered outside of your high school, perhaps at a community or junior college.
Visit the schools you're considering. Talk to their career placement team, ask if they can put you in touch with successful graduates or licensed journeymen. Follow up on those contacts and ask the alumni about the program and about their jobs post-graduation.
Check the program's admissions requirements and plan accordingly when it comes to standardized tests like the ACT and SAT. Some schools won't require either test, while others will require or accept scores from certain sections of the tests. Others may want proof of "general study" proficiency. Still others may have an admissions test.
The keys to finding the right school and program are the same whether you're considering a four-year college or a trade school: be proactive, ask questions, and don't let your peers' decisions influence what you decide fits best for you.
Go to main navigation